Auto racing is sometimes analogous with military operations, and I could not help but think of this comparison as I made my way through my most recent race with Guerilla Mods' GT2 field at Barcelona. This was my third race with the GT2s in as many days, and something became especially clear with this combination. Unlike my previous stints at Zandvoort and Imola, the Moto layout at Barcelona I have always found more formulaic or methodical, similar in feel to, say, Brno.
By this point, I was getting into a really good rhythm with Guerilla's new Porsche GT2 RS Clubsport, recently released on their Patreon page with its closely-related 935 grid mate, with which it shares its 700 hp and 1390 kg ratings. What I really started to notice in the Porsche GT2 at Barcelona, though, with its long, sustained curves is how different the slip angle and gear choices can be compared to, say, a GT3-spec racer with its stronger aero configuration. It's a difference I really enjoy here, as you are called on to be more present at the helm, with more throttle and brake feathering. This is where I think of the military analogy: utilize your training and your discipline to stay in control, and when something unexpected happens, be ready to react or face dire consequences.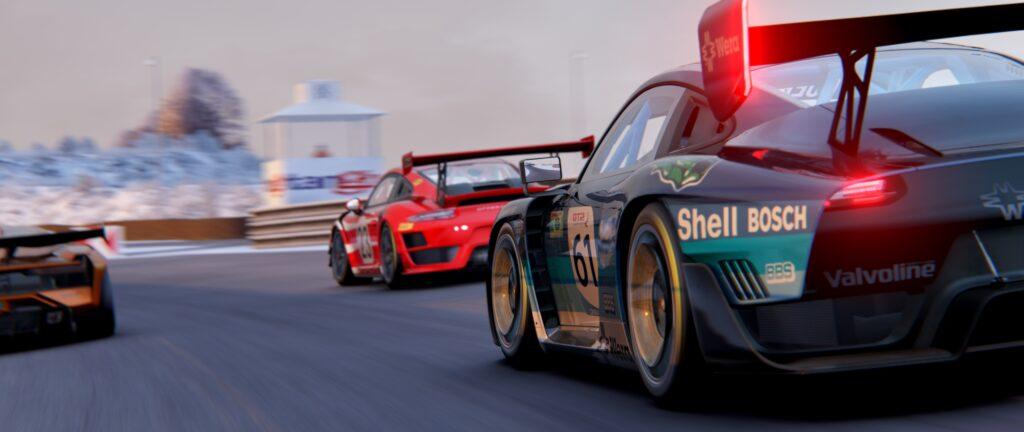 The flexibility built into the cars–a sign of a truly well-tested mod–allows for some different plans of attack as well. If you need to be a little more aggressive on corner exit, the rear will slide with warning, but not outright panic. Want to try holding a higher gear into that medium-radius turn? The front will be more reluctant but not simply plow straight. The Porsche GT2s are definitely open to different tactics and driving styles.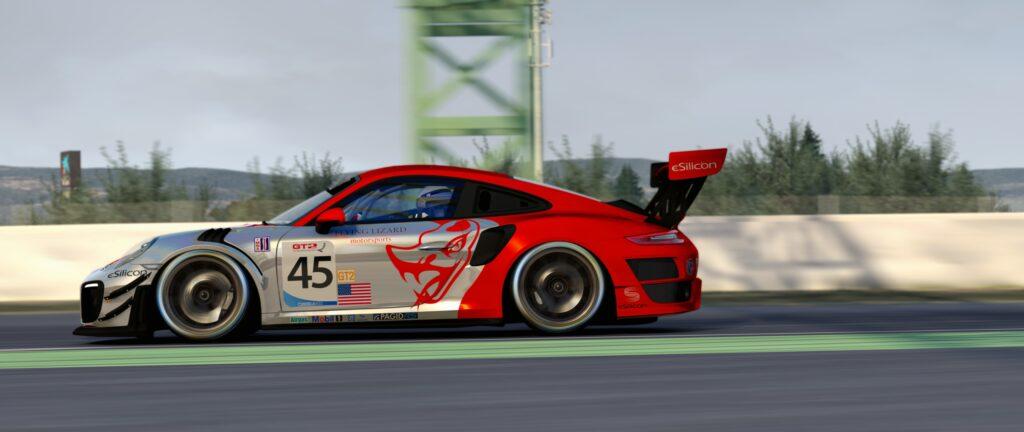 As for general AI race friendliness, excitement and drama crystallized up to the events unfolding at Barcelona. The Porsches play very nicely with the Audi, Brabham and KTM rivals that have really filled out the GT2 field nicely with variety. I had an especially entertaining battle with one of the Brabhams, as we swapped positions multiple times. In the dying laps of the race with me following, I'm sure I had extra motivation to stay with it just to keep in earshot of the BT63's raging steel drum sounds.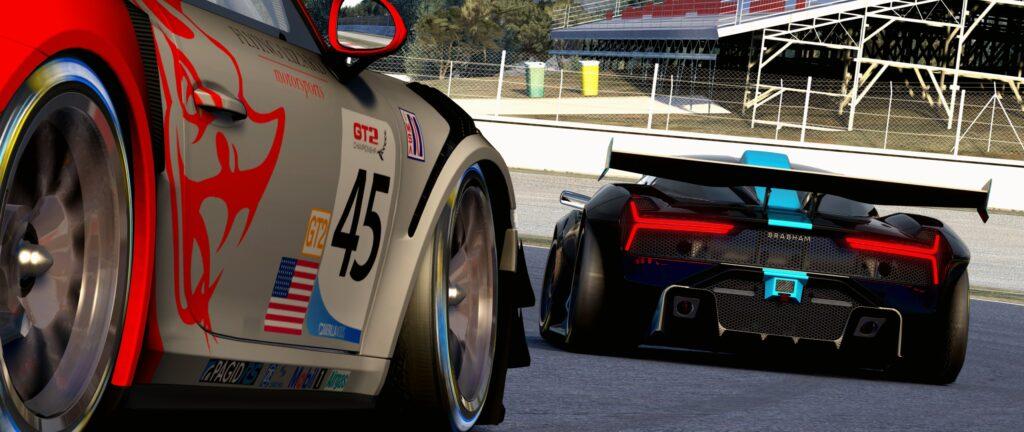 It's important to reflect on something here: less than a year ago, Guerilla Mods forged in a new direction with its Audi R8 GT2, and even team Timo Hartmann lead didn't know if there would be other grid mates. But community reception and team interest paved the way to an ever-expanding field of GT2 race cars, in the same collective spirit that bore Guerilla's legendary GT4 pack: provide a racing experience that is fresh, with a varied field, and the best quality physics, modelling and sounds possible.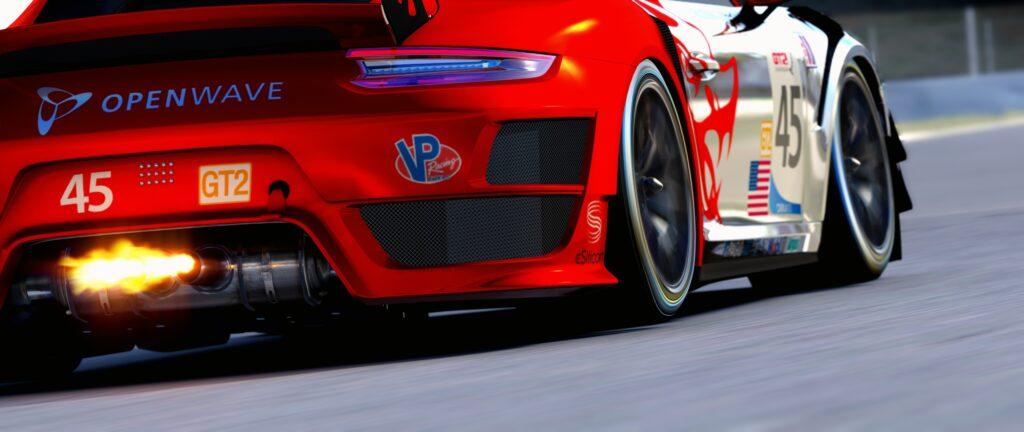 The community support continues to speak. A day after the Porsche GT2s were made available on Guerilla's patreon page, modders were releasing quality skins, like the 935 Pfaff Motorsports livery by ianmunroe, at Race Department.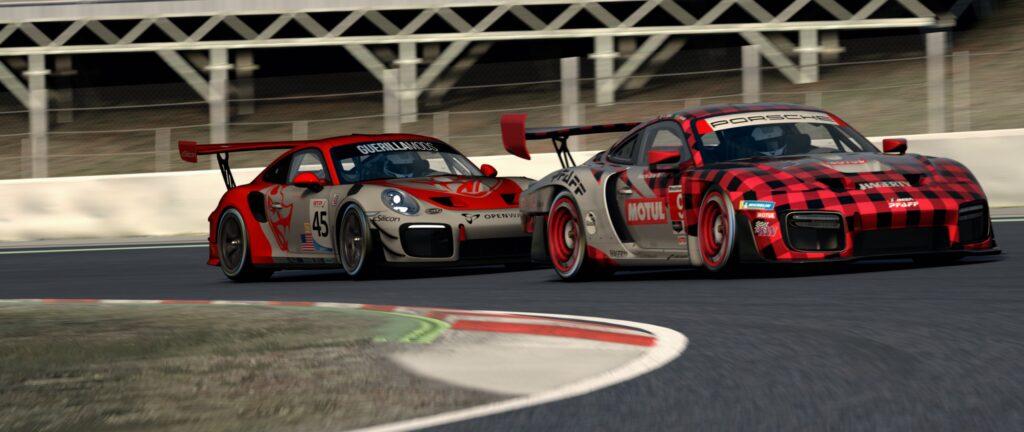 And the GT2 roadmap continues to be drawn: as you read this, Guerilla Mods is neck-deep into development and testing of a new addition from BMW.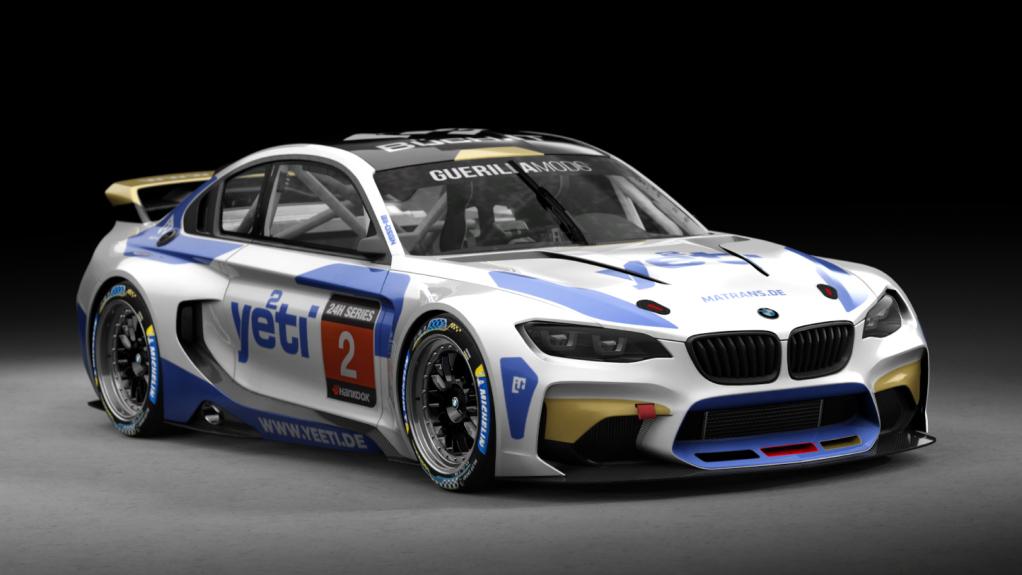 Like a well-trained special forces squad, Guerilla Mods continues to demonstrate that they are among the hardest-working, most passionate, dedicated and skilled modding teams in the Assetto Corsa arena.