By Paul Murphy
The year 2020 needs no introduction. Everyone on the planet has been affected, like never before, by a multitude of challenges that made the past year seem like a nightmare within a nightmare. Even if you weren't directly affected by destructive wildfires, human rights violations, political strife, or a suffocatingly deadly viral pandemic, you could not escape the surrealist repercussions that changed at least some aspects of your daily lives.
Meanwhile, some amazingly pure, strangely poetic outcomes materialized as well. Through our months upon months of lockdowns, we ended up spending time in different ways, more time with our families, with ourselves. We took up new hobbies, or dove deeper, way deeper, into existing ones.
We need look no further than within the explosion of our own sim racing culture. Whether people were looking for an escape from the cruel realities (or sheer boredom) of mandatory isolation, or wanted to find some way to replace that great road trip they were no longer going to take, or finally take the opportunity to bring their sim rig to the next level, sim racing growth has been unprecedented. And few places reflect that maturation better than Assetto Corsa. Since its official release in December of 2014, the open-ended sim racing platform from Kunos Simulazioni continues to defy and delight its user base with solid physics, a steady online racing community, and a passionate, dedicated modding community that has produced every car and track mod under the sun, and just as important, unleashed a full suite of dynamic weather and time-of-day capabilities and graphical shader updates that bring true photoreality to what is now the most comprehensive driving and racing simulator to date.
One team of modders to capitalize on all of these qualities as well as anyone is the team at Guerilla Mods. Spearheaded by Timo Hartmann with a singular vision to produce some of the most entertaining, accurate, and gorgeous race cars possible for Assetto Corsa, Guerilla Mods has steadily developed a series of cars and car packs, most notably, their 15-car field of GT4 class race cars. Timo knows very well that the GT4s are such an important class on the international racing stage, with their road car DNA not as far-removed as the more expensive GT3 class grids. GT4s are more grassroots, more accessible, and perhaps even more exciting to race and watch.
With these virtues in mind, Guerilla Mods has a fleet of GT4s that certainly stands out, with proven, online league race-tested handling, stunning liveries, and rich sounds and features. Guerilla has steadily, quietly continued to develop the GT4s (now at v0.72), and have, along the way, attracted the support and partnership of real-life auto manufacturers, plus real and sim racing teams.
It's certainly been a great year for Guerilla Mods, then. And thank goodness, because in the real world, the year has been very different. And in many ways, very hard. As we prepared for a holiday season that is usually a time to celebrate and reflect, it was a harsh reminder of what we have all endured and suffered. As Christmas gave way to New Year's, we all had posts in our social media feeds saying, "thank goodness this year's done.. can't wait to kick 2020 to the curb!"
But with vaccinations still coming into countries at a trickle, covid-19 case numbers higher than ever, and regions re-entering lockdowns, have we rounded the corner?
Well, in some ways, Guerilla Mods might have helped answer that question with some fresh, new hope.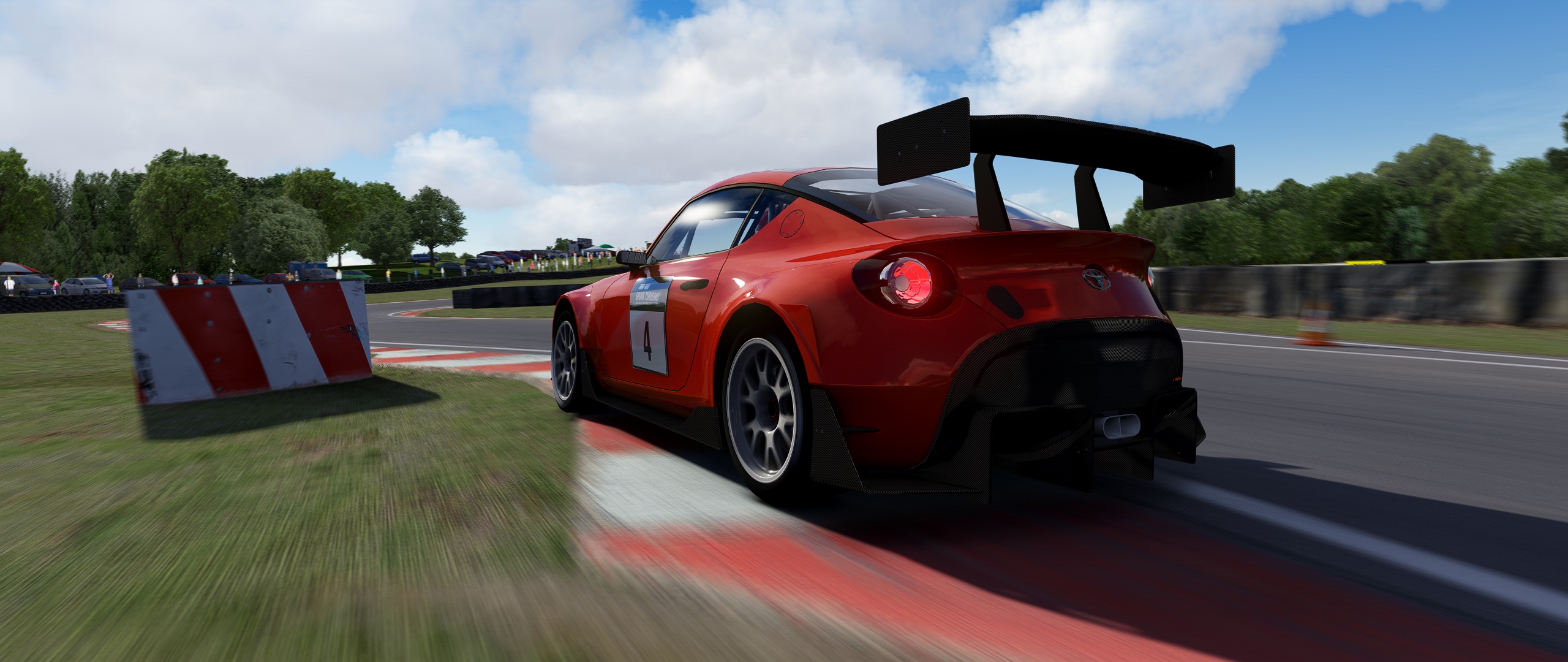 On early New Years Day, my phone's Facebook notifications contained a post from Guerilla with the most charming, feisty, bright red thing. I was stunned. I was fascinated. I had never seen this car before.. a Toyota..? S-FR..? Oh… a concept; that would explain some of the mystery and the expressive design. But it isn't ridiculous looking, but endearingly cute, but there's more; it's so.. purposeful. The skin is so taught, draping promptly over the wheels. In fact, curves define the entire car, from its frog-like headlights and gaping grille to its taillights reminiscent of the Alfa Romeo 4C. Add to that the large, aggressive wheels, the cot-sized rear wing, and the elegant flying buttress c-pillar, and you have the one everyone can't stop staring at in the center of the dance floor.
Once I realized this was not just a fun post of a pic–maybe a teaser of an upcoming mod that Guerilla was working on–but an actual mod release (v.0.01 that day), I took it to Oulton Park (one of my favourite test tracks). Right away, this was something different. The little S-FR Cup racer had a crackly, anxious, snarling idle that sounded like nothing else. And driving it? Without touching the setup once, I was having a blast. The car did what I expected in a spirited way, the drivetrain SHRIEKING the whole time (it's since been toned down to less deafening levels, but maintains character), and if I did overcook it, the car let me know progressively and let me reel it back in. That said, the car is very neutral. But not boring. It's simply fun. It looks fun, it sounds fun, it drives fun.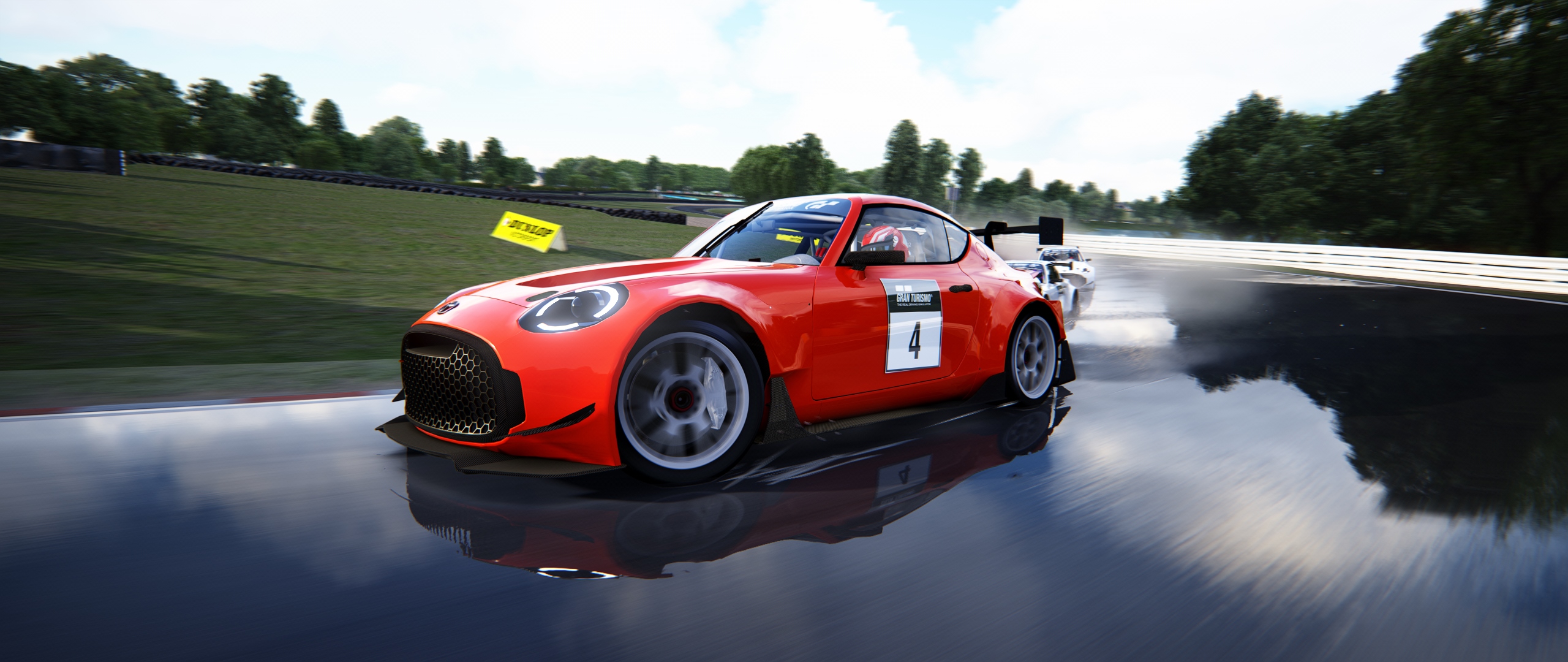 Timo says this car has been living on his computer for some time, and he decided to just share it as it is, and keep developing it with his followers and supporters along the way, much as he has done with his other mods.
I find that the Toyota S-FR Cup Concept is such a fresh asset for Guerilla Mods–one that embodies many of the sensibilities of their flagship GT4s, but in a delightfully fun new package. I also think this mod is a talisman: a great sign of hope that 2021 is indeed the year we take back as ours.
* * *
For more details, updates and events featuring the Toyota S-FR, head to the Guerilla Mods Facebook group.